2014年 12月 11日
| | |
| --- | --- |
| How to knit a flat stuffed bear | |
The first moment I saw
this bear
made by oruko, I fell in love.
According to her, the bear had been introduced in a quarterly magazine called 'BienFait'(published by Clover/No.27, Winter 2005) by a Japanese famous knitter Kotomi Hayashi.
I couldn't get its pattern, but she kindly gave me a brief instruction.
Thanks to that, I could manage to figure out how to make one.
I like this flat amigurumi bear a lot.
It's so cute!
And it's very easy and quick to knit.
I've made many of them so far.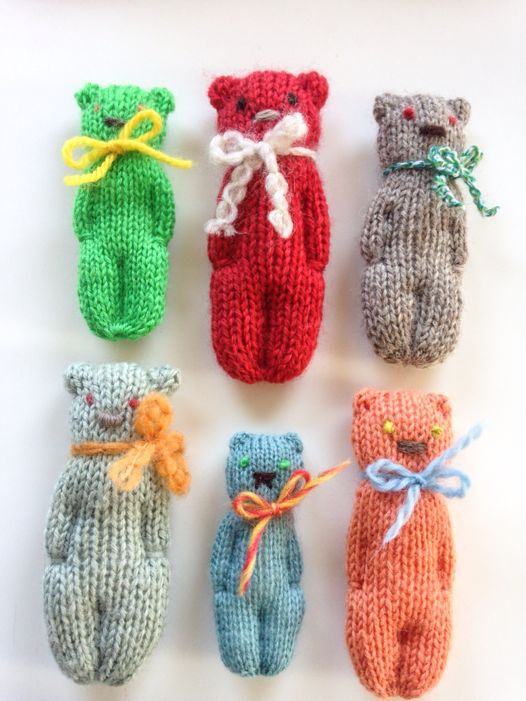 The latest ones
luckily caught the eyes of one of ravelry's staff members and were featured on the front page on Dec. 3rd, 2014.
Then I got oh so many views and compliments from all over the world(I guess;-)), as well as pattern requests.
What an honor!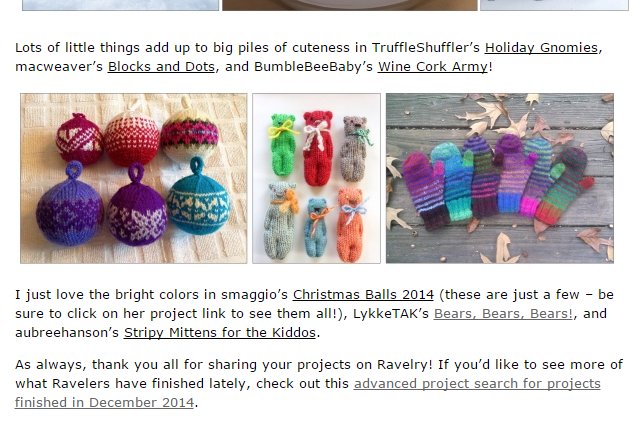 a screenshot from Ravelry
I'm so glad to know that many people liked them.
Some people have told me they'd like to make them for charity.
That means a lot to me, for that's what I'd love to do myself, too!
So now, I'd be very happy to share my how-to.
It's super-dee-duper easy!
(English translation was a bit tough for me, though...:-p)
Ready?
Here we go!
---
Longtail cast on any even number of stitches.
(20 for mine)
You just knit flat, repeating K1, Sl1 as if to purl/purlwise every row.
Knit until you get to the desired length(height), then divide the stitches on your needle one by one onto 2 needles.
Now you'll find that your work is double faced.
You've knitted a small bag, though you've been knitting flat.
(See the second picture on my 1st bear
here
)
Turn your work inside out, stuff some padding.
Cut the yarn and pull it through the last stitches, tighten and close.
That makes the bottom(toes) of a bear.
Then stitch(with a darning needle) legs, arms and ears with the same yarn as the body, eyes and nose with different color yarns of your choice.
(That's my favorite part! Thinking of color combination is so much fun;-))
Attach a tail if you like.
(Mines have crocheted bobbles)
And also, don't forget a ribbon/tie!
---
That's it!
Does this make sense??
I'm not sure how this technique is called in English.
According to Kotomi Hayashi, who has been introducing a lot of fun and unique knitting techniques of Scandinavia, it's called Tubular knitting.
(In Japanese, 袋編み.)
Double knitting/reversible knitting seem to be similar, but not the same I think.
Ms Hayashi described this technique in her book
'Nordic Knitting/Ten fabulous techniques'「北欧ワンダーニット」
).
I hope this will help you.
If you have any questions, please feel free to ask.
Lastly, I'd like to thank all the people who are interested in this bear.
And of couse, a big 'Thank you!' to oruko, who let me share what she had shared with me.
Oh, when you successfully make your own bear/bears, please let me know.
I would LOVE to see it/them!:-)
Happy knitting!